VOLATILITY INDEX JAPAN (VXJ)
---
The Volatility Index Japan (VXJ) is herein presented by the VXJ Research Group at the Center for the Study of Finance and Insurance, as a benchmark of future volatility in the Japanese stock market.
Latest Updates Update : 20210611
date :

VXJ :
&nbsp
20210611 (Fri)

18.11
-

20210610 (Thu)

20.08
-

20210609 (Wed)

19.85
-

20210608 (Tue)

19.87
-

20210607 (Mon)

20.71
-

20210604 (Fri)

20.92
-

20210603 (Thu)

20.26
-

20210602 (Wed)

20.4
-

20210601 (Tue)

20.51
-

20210531 (Mon)

19.97
-

20210528 (Fri)

19.82
-

20210527 (Thu)

20.41
-

20210526 (Wed)

21.19
-

20210525 (Tue)

21.32
-

20210524 (Mon)

23.39
-

20210521 (Fri)

23.23
-

20210520 (Thu)

24.9
-

20210519 (Wed)

25.92
-

20210518 (Tue)

23.95
-

20210517 (Mon)

26.35
-
Volatility index
Due to the changes in the trading environment of the Japanese financial market, the VXJ calculation algorithm has been updated on April 2021. The new algorithm uses the Nikkei 225 Weekly option prices in addition to the Nikkei 225 option prices of the nearest two expiration months. The interpolation method with respect to option maturities has also been changed. There is no change in the method of calculating the model-free implied volatility for each maturity.

The time series data until September 2020 for VXJ calculated by the old algorithm are still made available together with the VJO (the old VXJ). The time series data using the new algorithm will be calculated back to 2018 and will be made available and updated monthly.
Notice of the update of VXJ calculation algorithm

The update of VXJ time-series from October 2020 onward, is scheduled to be resumed in April 2021.
If there is any change in the schedule, we will notify you again. (March 9, 2021)
Notice

We have resumed the weekly update on VXJ, but it may be irregular on some occasions.
We apologize for any inconvenience this may cause. (May 14, 2020)
Notice of resumption of weekly update on VXJ

On September 8, 2017, we have fixed the series of VXJ from Jun 2, 2017 to August 3, 2017, considering the impacts on maturity caused by a new national holiday which is called Mountain Day August 11.
Notice of revision of VXJ


Important notice

A volatility index proposed by the VXJ Research Group
VXJ: Volatility Index Japan



VXJ Data Download Update : 20210604
Click to see "VXJ data".
Volatility Index Japan (VXJ) data download page

---
VOLATILITY INDEX JAPAN
The Volatility Index Japan (VXJ) provides a measure of how volatile the Japanese stock market would be over the next month and it is based on Nikkei225 index options. The VXJ index is presented herein, not so much as a tradable class of assets, but as a guide for firms in the dynamic hedging of exposures to equity risk, and for financial regulators in the supervision of banks' compliance with capital requirements through Value-at-Risk modelling. This volatility index can be also useful in the examination of the reaction of volatility expectations to macroeconomic information. Empirical studies suggest that implied volatility indices provide reliable forecasts of short-term volatility, and the "fear gauge" appellation is widely accepted in light of the negative dynamic relationship with market returns.

---
Times-series of VXJ and Nikkei Stock Average Update : 20190222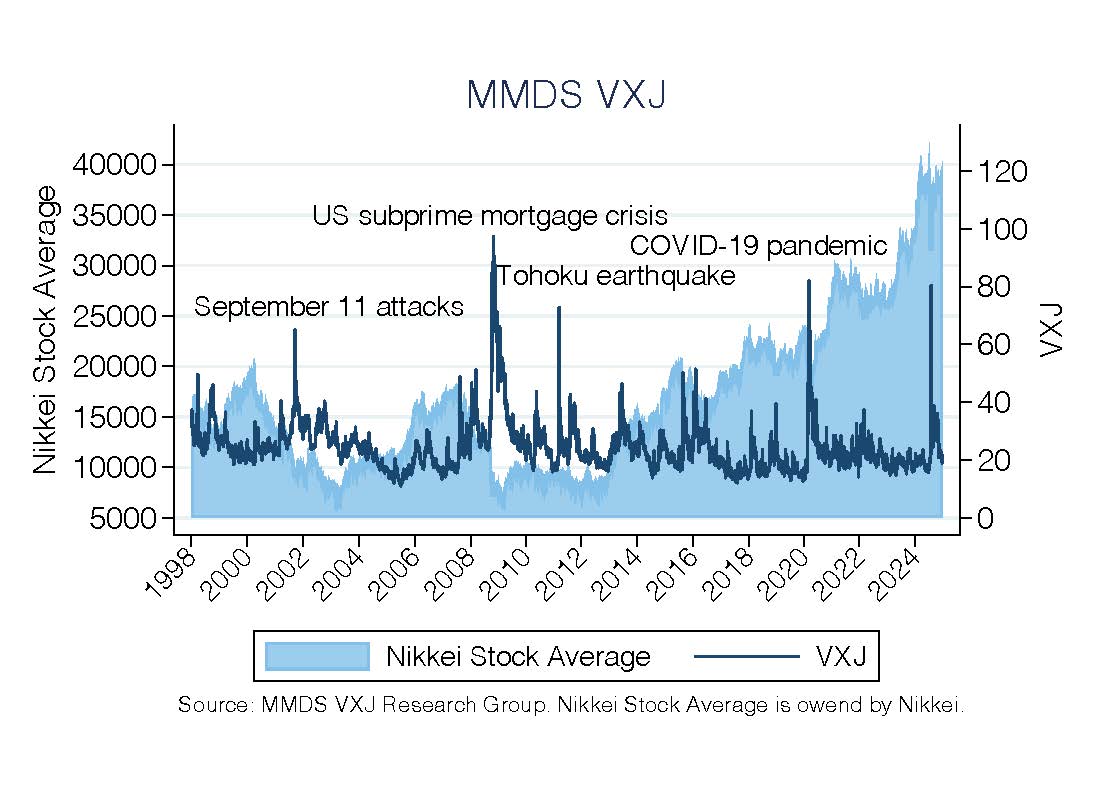 (Nikkei Stock Average is owned by Nikkei.)
(Nikkei Stock Average is owned by Nikkei.)
VXJ Research Group Members :
Kazuhiko Nishina, Kosuke Oya, Nabil Maghrebi, Masato Ubukata, Masaaki Fukasawa, Kazutoshi Yamazaki, Isao Ishida, Yuta Kurose, Makoto Takahashi and Seiya Kuno
Terms of Use and Disclaimer of Liability :
The contents and materials in this VXJ Website are protected by copyright, trademark and other applicable intellectual property and proprietary right laws and owned, controlled by and/or licensed to the Center for the Study of Finance and Insurance and its associated parties (herein referred to as "MMDS"). These contents and materials may be copied or downloaded for personal or academic use, but appropriate byline/graph/data/image credit is requested. No ownership rights can be claimed in any downloaded contents or materials. The contents or materials downloaded from VXJ Website cannot be changed, reproduced, or modified, and should be used only for lawful purposes. For commercial purposes including publication, distribution, transmission, transfer, or sale, in whole or in part, the express written permission of MMDS is required. The calculation of the VXJ/VJO, and statements of opinion in this website are made solely for research and information purposes. The views and opinions expressed herein do not necessarily reflect or represent those of MMDS and they shall not be used for advertising or product endorsement purposes. The information and opinions expressed herein are based on available data believed to be reliable. Whilst all reasonable efforts are made to provide accurate and complete calculations, MMDS provides no warranty, expressed or implied, nor does it assume any legal liability or responsibility for the correctness, reliability or completeness of the data. MMDS reserves the right to change the method of calculation and method of dissemination of the VXJ/VJO series without prior notice. MMDS makes no assurances against interruptions to the VXJ/VJO series dissemination, with or without prior notice or explanation. This VXJ website may contain live references or pointers to information pages maintained by other organizations. MMDS does not control, nor does it ensure the relevance, accuracy or timeliness of these outside references. Reference herein to any specific service, product or process does not constitute or imply its endorsement by MMDS. Suggestions on how to improve the VXJ website and correct errors are welcome. Under no circumstances should these materials and contents be construed to represent statements of fact or recommendations to purchase, hold, or sell any securities or make any other investment decisions. No reliance on these materials and contents shall give rise to any claim, legal or otherwise, against MMDS.